PSIvet has partnered with Vault Consulting, LLC to bring a group health benefit solution to all PSIvet members. For the independent veterinary practice, it has become increasingly difficult to compete with the benefit offerings of corporate veterinary practices – and this initiative aims to alleviate those difficulties. The early stages of the initiative will include implementing level-funded health plans for any and all interested PSIvet member groups. This will result in immediate member benefits such as the ones outlined below. When participating member count reaches a high enough level, PSIvet and Vault will outline a strategy that could result in an association-wide group health plan that all member groups and individuals can join.
With the recent changes in the Health Insurance world, Vault Consulting has developed a proven road map to help associations determine:
A) If an Association Health Plan (AHP) is the right answer for their members
B) Will an AHP better position the association within their industry; And if appropriate,
C) Determine the right approach to designing and implementing an AHP
We understand that an AHP may not be the right answer for every association. A disciplined approach to assessing your members' needs and designing the right plan that will meet the majority of their needs is critical. It is far better to launch the right Association Health Plan than to launch for the sake of launching.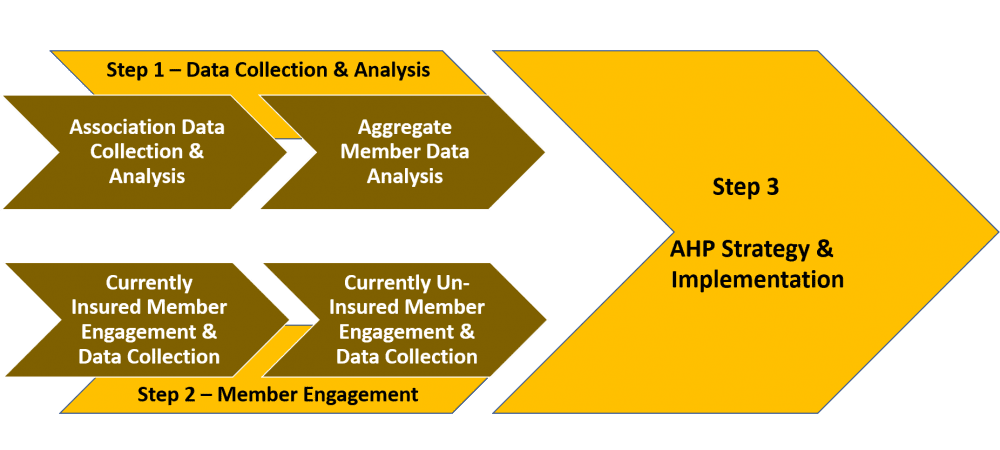 Step 1: Data Collection & Analysis
Data is king. With data, Vault Consulting will be able to analyze your association and what the best strategy is going to be in order to save your members money on their employee health benefits.
Step 2: Member Engagement
Member engagement is important as we collect additional information from your members directly. The data from them and their engagement in the collection of that data is vital.
Step 3: AHP Strategy & Implementation
With analysis completed, we are able to recommend a strategy and implementation plan for your association. We will never recommend a plan that won't deliver the agreed to results.
The early stages of this initiative will include implementing level-funded health plans for any and all interested PSI member groups. With level-funded health plans, members will beable to achieve immediate benefits until enough members participate in order to form an association-wide health plan. The initial level-funded plan will notonly help the association prepare for an association-wide health plan, you will also receive various benefits and improvements in your healthcare plan. These include:
• Reduced Costs
o Level-funded health plans are the new-age strategy to control costs now as well as future cost increases.
• Better Benefits
o The reduced costs allow the opportunity to offer richer plans, such as decreased deductibles, co-pays, etc.
• Employee Retention
o Offering affordable health insurance as a benefit helps employers attract and retain valuable employees.
• Case Management
o These level-funded plans are built to target each group's largest claims, controlling annual increases.